Blog by Sumana Harihareswara, Changeset founder
24 Nov 2010, 17:20 p.m.
Hi, reader. I wrote this in 2010 and it's now more than five years old. So it may be very out of date; the world, and I, have changed a lot since I wrote it! I'm keeping this up for historical archive purposes, but the me of today may 100% disagree with what I said then. I rarely edit posts after publishing them, but if I do, I usually leave a note in italics to mark the edit and the reason. If this post is particularly offensive or breaches someone's privacy, please contact me.
Yesterday, my mother and I visited Mysore's railway museum. It's open 9:30am-6:30pm, Tuesday through Sunday (don't believe the hours listed elsewhere on the web). Admission was ten rupees each, I believe, with an additional 25-rupee fee for bringing a still camera. Unlike, say, the New York City or London transit museums, it's outdoors.
I loved riding the toy train, working knobs and levers and wheels, and clambering in and out of the cars and engines. Near each car or engine stood a small "My Story" placard, told in the first person from the item's perspective. "I was born..." "I was christened..." Who wouldn't love getting to hang out in the "snobbish inspection car"? (It's not actually that special, just benches and a dressing room.)
And then there's the Austin.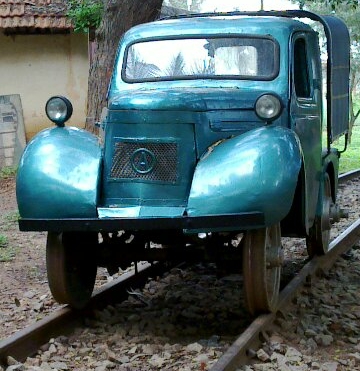 Its story: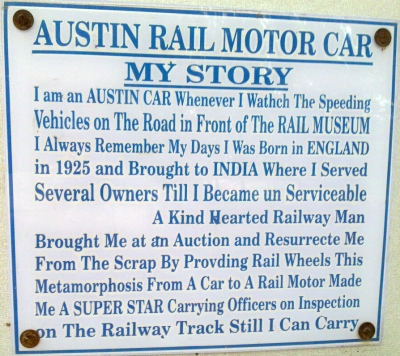 (Transcribed below, and translated into punctuated and correctly spelled English)
Austin Rail Motor Car
My Story
I am an AUSTIN CAR. Whenever I watch the speeding vehicles on the road in front of the RAIL MUSEUM I always remember my days. I was born in ENGLAND in 1925 and brought to INDIA where I served several owners till I became unserviceable. A kind-hearted railway man bought me at an auction and resurrected me from the scrap by providing rail wheels. This metamorphosis from a car to a rail motor made me a SUPER STAR carrying officers on inspection on the railway track. Still I can carry.
I hope that car gets the occasional chance to prove it can still carry.
We talked with a pair of British visitors. They found it more enjoyable to wait a few hours for their train at the museum than at the nearby railroad station. I thanked them for giving us the railroads. They laughed and accepted my thanks.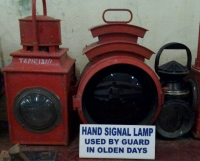 I don't actually know nearly enough about the history of the Indian railways, so I bought a couple of books at the gift shop. From page 6 of 150 Glorious Years of Indian Railways by K.R. Vaidyanathan:
Contracts for the construction of the 64-kilometer section from Howrah to Pundooh had also been awarded to local contractors, and by the end of 1853, the line was practically ready... Its opening was delayed by two unfortunate events. The ship which was bringing prototypes of the first railway coaches sank at Sandheads and replacements had to be built in Calcutta by two coach-building firms. Another ship carrying locomotives for the Railway from Britain proceeded to Australia by mistake instead of Calcutta. They were diverted back to Calcutta from Australia and finally arrived there in 1854.
Next time I have to report a two-week slip in a project schedule I'm going to have to bite my tongue to keep from saying "could be worse..."
A few documents, old phones, and the Mysore Maharani's private "saloon" car sat indoors. But everything else was out in the open, next to grass and vines and trees. Sometimes very close.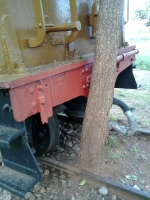 A lovely hour and a half, out on a nice day, frolicking among the staid old iron and the young green. This coalbin's sat out so long that plants have begun to sprout.