Blog by Sumana Harihareswara, Changeset founder
30 Nov 2018, 13:28 p.m.
Non-Influencer Fashion Blogging
I've heard fleece-lined tights could be a game-changer regarding wearing skirts and dresses when it's cold. A friend recommended the Homma brand in particular, since they're footless and since (if you turn them inside out) they are machine-washable.
But the Homma brand/maker doesn't seem to exist in terms of an independent manufacturer or brand of an existing manufacturer that has its own website or catalog somewhere. It might be an Amazon-only brand. Sort of a mystery, and I've used up my Ask MetaFilter question for the week on a request to decipher a handwritten letter from 1792 and translate it from German. I'd welcome insights from Homma wearers regarding non-Amazon vendors!
So the other day I had a spare chunk of time in midtown Manhattan and went to a few shops asking about fleece-lined leggings and tights. Nothing in my size that wasn't made in China, so I'm still low-key seeking fleece-lined leggings/tights/whatever-new-jargon-emerges-in-the-next-week.
On my way home I stopped by the Grand Central holiday market and looked around. No tights, but the Carina Hildebrandt stall did have "joggers". They were very nice when I asked what that word meant (I mentioned that a problem with upward mobility is that you don't know all the right words). It turns out joggers are basically posh sweatpants.
I thought, maybe it is time for me to level up from the old black cotton sweatpants I've had for like 20 years! these are super nice! they have pockets! they're made from alpaca wool! I could take really good care of them and they would last for decades! they would be, like, investment sweatpants!
I asked how much they were, mentally preparing for, like, "$200" or something like that, thinking "well if I literally use them for the rest of my life, I could justify that." Those joggers are 535 United States dollars.
No I am not that rich! I demurred. The vendor mentioned that it was handmade, 100% alpaca wool -- I said, oh, I'm sure it's worth that much, I just can't afford it! Maybe in ten years.
I'm not about to follow the lead of Nicole Cliffe's friend who super loves Brooks Brothers (I found that thread very funny), but I've come to some kind of playful détente with the world of trying-to-look-good clothes? I guess part of that is because of Project Runway and my friendship with Elisa DeCarlo, which helped me see more of what high-end clothes are trying to do, and then knowing Lea Albaugh and seeing how she makes and reads clothes, and a whole bunch of low-stakes thrifting, conversation, and so on in between. And having more money makes it easier to try more expensive stuff, and the longer I live, the more I see how durability pays off. In retrospect this feels kind of like how I grew to enjoy wine.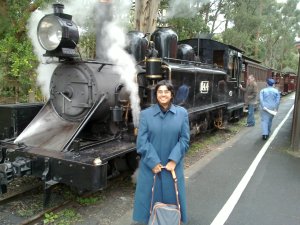 It's interesting to look back on the time I spent over the past year seeking out a winter coat, especially in contrast to my approach last decade. Back in my mid-twenties when I was about to move to NYC, saying goodbye to Bay Area friends, my friend Claudia asked whether I already had a winter coat. I gestured to some kind of light cotton jacket I had on to protect against the mild late-December chill. Claudia, who had lived in Boston, went to her closet, took out a shiny puffy waist-length H&M coat, and handed it to me. And that was an excellent move and I used that for years. I wanted something longer, so at some point I hit an army surplus store and bought a long blue Canadian army surplus? coat that was a little too big for me. I gave it to a Recurse Center friend during our fall 2013 batch, depriving my spouse of the opportunity to call me Colonel Sumana.
Last winter I decided that I'd like a formal-looking (so, probably wool) warm winter coat, with a lot of leg coverage (mid-calf or so) and big pockets for my hands/gloves/phone. I bookmarked dozens of coats online and learned that the word I wanted to describe my desired length was "maxi" and that well-made maxi wool coats cost hundreds of dollars at least. I went to try things on at Nordstrom Rack, but a lot of off-the-rack stuff fit weird, in terms of shoulder and chest. I asked friends: Where in NYC do I go to find a well-made, non-slave-labor coat of this type for under, like, $200? If the answer is "what you want is not available at that price, you need to INVEST and it'll cost at least $400" then I will also accept this answer. I poked around sample sales and thrift stores opportunistically.
And then this past weekend, hanging out with a friend, I went to a vintage shop in my neighborhood and they had about 20 maxi-length coats. My friend told me what looked good, and we agreed that one of them suited me well -- I put it on and looked in the mirror and said this is it!. I got it for about $100 (it was $129 but I got a Small Business Saturday discount). It's a grey mostly-wool coat, 70% wool/15% mohair/15% nylon, and there's a union-made-in-the-USA label on it but no brand label. The owner said she thought it was from the 1980s or 1990s and might have been made by Jones Of New York. It makes me happy to put it on! Although I need to wear a scarf with it till I get a tailor to add a felt lining, because the collar scratches my neck.
A few nights ago, my spouse and I went on a little date and I dressed up a bit. I wore a red knit V-neck dress I got in a shop on Valencia in San Francisco a few years ago -- its material and shape are pretty flattering and forgiving of weight fluctuations -- and a string of pearls my mom gave me, and the new wool coat. We did a crossword puzzle and ate and talked about Steven Universe, Legend of Korra, and She-Ra.
Then we came home and watched a bit of the latest season of Great British Bake-Off. At one point, to cheer up a baker, Noel sketches a cat on their instruction sheet, then adds a speech bubble and writes the f-bomb inside the speech bubble. And the video is not blurred or otherwise redacted! I gasped, scandalized, and my hand flew to my neck in shock. Leonard asked: "Are you literally clutching your pearls?"
So I am not currently in possession of any trousers that only seem inexpensive when compared to $750 palazzo pants from the same vendor, but I am prudish about cuss words on TV and in my blog. I'm upwardly mobile financially, but in case you ever wondered what social class I'm in, I feel like that's a big clue.
Disdisclaimer: as you can probably tell, I received no payments, discounts, subsidies, or gifts from any of the companies mentioned in exchange for this post; indeed, in 2028 when I am able to afford to buy anything from Carina Hildebrandt, I may be required to recant portions of this post as a precondition of purchase. Also, Leonard hasn't seen the new She-Ra. For that part of dinner he mostly listened while I went on about it.