Blog by Sumana Harihareswara, Changeset founder
05 Mar 2015, 15:16 p.m.
Hi, reader. I wrote this in 2015 and it's now more than five years old. So it may be very out of date; the world, and I, have changed a lot since I wrote it! I'm keeping this up for historical archive purposes, but the me of today may 100% disagree with what I said then. I rarely edit posts after publishing them, but if I do, I usually leave a note in italics to mark the edit and the reason. If this post is particularly offensive or breaches someone's privacy, please contact me.
Right now, y'all can apply to the Free and Open Source Software Outreachy internships, formerly OPW -- the deadline is March 24th. Copy the flyer below to spread the word! And March 24th is also the deadline for your organization to sponsor internships -- if your employer has deep pockets, use this template to ask them for some cash.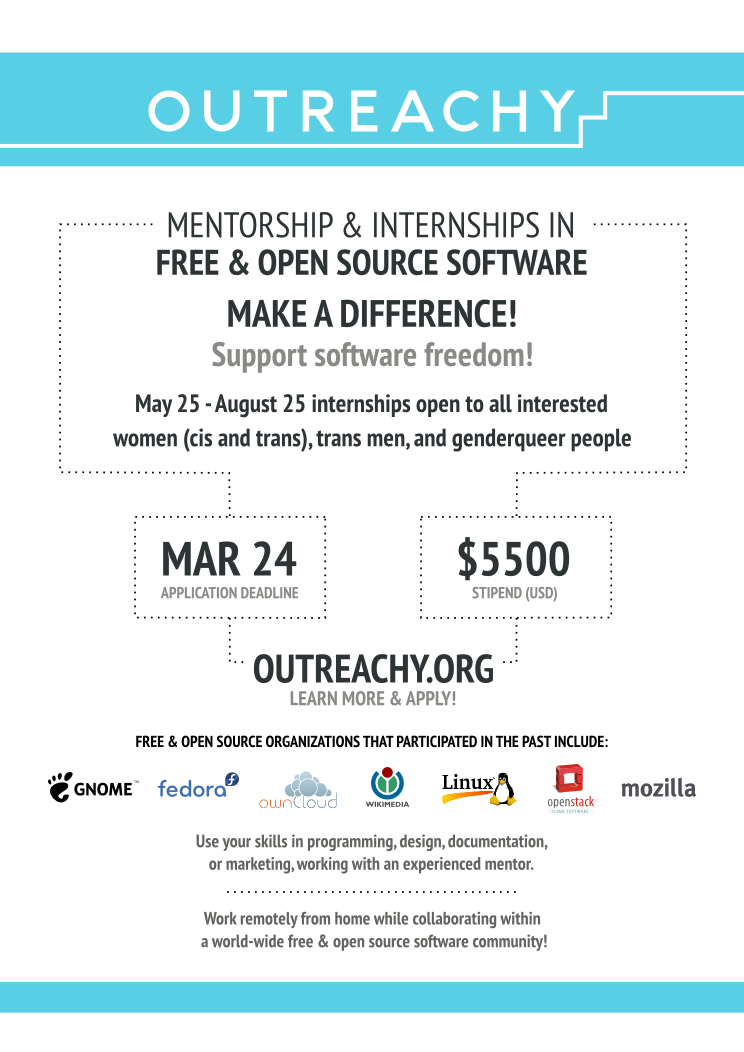 As of last month, Outreach Program for Women is now Outreachy, and Outreachy will move from the GNOME Foundation to being a member project of Software Freedom Conservancy on May 1. This step makes sense, as Outreachy serves the entire FLOSS community and SFC is specifically set up to provide financial, legal, and administrative support to member projects, whereas GNOME Foundation's core goal is to advance GNOME. I'm grateful to the GNOME Foundation for launching and supporting OPW as it grew!
Celebrating in detail
Outreachy has now taken several pretty wow steps over the course of its 9-year history (see the original announcement and a 2009 retrospective [edited 2022-06-14 to also link to this 2022 retrospective]). This is not complete, but:
from one-time to repeating, and then to consistently running twice a year
from only mentoring GNOME projects to mentoring GNOME + Twisted, and then to mentoring for dozens of FLOSS projects (and Sage Sharp, the original Linux org admin, handing off that responsibility and coming to co-administer Outreachy as a whole)
from 6 participants in the first round to 44 in the round that's ending in a few days
from Hanna Wallach and Chris Ball volunteering to run it, to Marina Zhurakhinskaya running it as a volunteer, to Outreachy being part of Zhurakhinskaya's job, so candidates, interns, mentors, and admins get more consistent support and leadership
from GNOME oversight/administration to the Software Freedom Conservancy
adding a travel fund, explicitly documenting it and encouraging participants to use it
adding a career development advisor (me at first, then delegated to someone with more career advising experience)
from language of "women/females only" that was potentially trans-exclusive to more inclusive language ("anyone who was assigned female at birth and anyone who identifies as a woman, genderqueer, genderfluid, or genderfree regardless of gender presentation or assigned sex at birth")
from "Women's Summer Outreach Program" through various name permutations :)
from fighting only sexism to fighting other oppressions as well, by partnering with Ascend
from zillions-of-emails application processes to a unified web app
weathering a trumped-up controversy about a temporary GNOME finances problem
adding the full variety of software engineering tasks as potential projects, e.g., design, release management, translation, etc., not just coding
adding a mentored first contribution as an application step (other open source internship programs are copying this)
Empowering everyone involved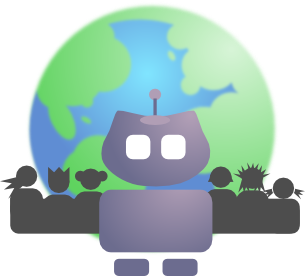 When I saw, in mid-2012, that OPW had included a non-GNOME project, and that OPW had succeeded in getting the percentage of women at GNOME's yearly conference from ~4% (2009) to ~17% (2012), I decided I wanted Wikimedia Foundation to participate. I sought Zhurakhinskaya out at that year's Google Summer of Code Mentor Summit, my boss in tow. Zhurakhinskaya was already looking for me. We instantly agreed that WMF should participate. My boss, Rob Lanphier, trusted my judgement and gave me the budget to fund multiple interns. Zhurakhinskaya helped us decide to expand our contribution.
In the end, we got six interns for that round, thanks to WMF's contribution and to money Zhurakhinskaya and Karen Sandler got from Google's Open Source Programs Office. Wikimedia has kept on mentoring via OPW/Outreachy, several have stuck around as volunteers, and WMF has hired at least four alumnae as contractors or employees. Outreachy works to help recruit and retain technical contributors, who have more diverse perspectives, more than the event-based or publicity-only initiatives we'd tried before.
OPW helps oppressed people do things they didn't think they could do -- and thank you Outreachy for helping WMF do something we didn't know we could do. :)
Congratulations! And here's video of "The Outreach Program for Women: what works & what's next", a talk that Liz Henry and I gave last year at Open Source Bridge.