Sumana Harihareswara's Web Presence
Sumana's journal
About me
I'm the founder of Changeset Consulting, providing project management services to open source software projects. Since 2007 I've been contributing to and leading open source software communities.
More generally, I'm a programmer, technology executive and open source expert who practices and teaches technical and people skills (my resume). I'm on LinkedIn, GitHub, and GitLab.
I often give public talks, including keynote addresses at conferences.
Writing: I have written rather a lot of prose and some software. I've kept an online diary, Cogito, Ergo Sumana, since late 2000, and a Twitter feed since mid-2009 (I'm now on Mastodon.social as well). (My identi.ca microblog is defunct.) I also co-maintain the rarely-updated Geek Feminism, as well as Spam As Folk Art, a weblog chronicling the more bizarre and evocative phrases in junk email. I bookmark interesting links on Pinboard and comment on current events and culture at MetaFilter.
Contact: You can email me at sumanah@fastmail.com. Here's a videorecording that demonstrates how to pronounce my name. My PGP/GPG public key and fingerprint:

pub   4096R/B57DAF9C 2011-08-11 [expires: 2021-07-25]
      Key fingerprint = 16C6 489E E00C 524A A409  8AE1 2479 B21F B57D AF9C
uid                  Sumana Harihareswara <sumanah@fastmail.com>
Mailing address:
PO Box 721160
Jackson Heights, NY 11372
United States of America
Interests and background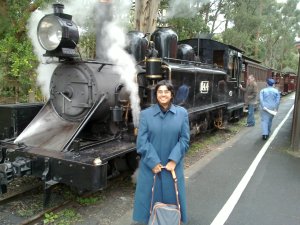 Family: My parents hail from Karnataka, a state in southern India, where the native language is Kannada and the people are Kannadigas. Like my parents, I am a Hindu. For several years they edited and published the Kannada/English magazine Amerikannada, many issues of which now reside in the collections of the University of California at Berkeley. My sister, Nandini Harihareswara, is an executive in digital financial inclusion. Leonard Richardson and I got married in April of 2006.
Places: I live in New York, New York in the United States of America. I was born in the northeastern US and moved through Pennsylvania, Missouri, and northern California before coming to New York. If you think you went to school with me, you probably did.
Education: I earned a bachelor's degree in political science at the University of California at Berkeley and a master's in technology management at Columbia University, and participated in the Fall 2013 and Fall 2014 batches of the Recurse Center (formerly Hacker School). In 2016 I became a certified Software Carpentry and Data Carpentry instructor.
Work: Before founding Changeset, I worked at Cody's Books, Salon.com, Fog Creek Software, Behavior, Collabora, the GNOME Foundation, and the Wikimedia Foundation.
Community service, activism, and volunteering: I serve on the Motherboard of the Otherwise Award, and push towards transparency in software used by my governments. As of late 2019 I am a Visiting Scholar at the Secure Systems Lab at New York University.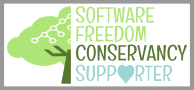 Interests: I'm interested in free and open source software, books, careers, good teaching, political science, tax history, hiking, stand-up comedy and other sorts, faith, Russian, Russia, India, good cinema, innovation, the cultural/political aspects of technology, project management, and so on. If you are interested in giving me some sort of gift, you could give money to the Electronic Frontier Foundation or Software Freedom Conservancy or the Otherwise Award, or consult my wantlist.