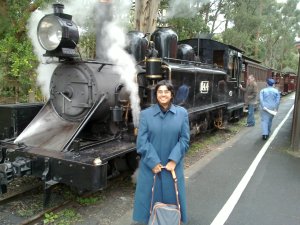 Sumana Harihareswara's Talks & Presentations
I'm Sumana (pronunciation), the founder of Changeset Consulting, and I frequently write and speak on open source, management, and other topics.
Invite me to speak. I am available in person starting in August 2021, and for virtual events starting in November 2020. Except in extreme circumstances, I need five months' notice to deliver a talk.
Upcoming
None.
---
Below is a list of some of the public talks and presentations I've given, with links to audio and video recordings, notes, slides, and transcripts.
Keynote addresses
Other conference talks and presentations
PyOhio, July 25-26, 2020. Online. Gave a ten-minute talk: "Apply for Grants To Fund Open Source Work". Video, slides and text.
WisCon, May 22-25, 2020. Online. I was the host for the Otherwise Award auction on Saturday night, and served on a panel on Sunday afternoon about the renaming of the Award.
I attended the 2020 Exascale Computing Project Annual Meeting in Houston, Texas, USA, 3-6 February 2020, and spoke in Better Scientific Software sessions about my maintainership writing.
I was a panellist at Sustain NYC, in New York City, USA, on 25 November 2019.
I presented a 30-minute overview of PyPI's application security model as a guest lecturer to an NYU appsec class on 18 November 2019.
I spoke on a MOSS panel and led a Python packaging workshop at MozFest 2019 in London, UK, in October 2019.
I led the arts festival The Art of Python, and a Python packaging/distribution open space and sprint, and participated in the Maintainers Summit, at PyCon North America 2019 in Cleveland, Ohio, USA.
At WisCon 43 in Madison, Wisconsin, USA, I served on:

"Ethics In The Good Place And Crazy Ex-Girlfriend", panellist.
Tiptree Auction: comedian and auctioneer, as recorded in this cartoon.
"Imaginary Book Club", panellist.

At RubyConf Los Angeles 2018, I co-presented "Code Review, Forwards and Back" with Jason Owen (video).
At PyGotham 2018, I co-presented "Python Grab Bag: A Set of Short Plays" with Jason Owen. Video and notes are available. We also held a preview performance on Sunday, September 30th.
At Open Source Bridge 2018, I led an unconference session on Python packaging; one attendee took notes.
At WisCon 42 in Madison, Wisconsin, USA, I was the auctioneer for the Tiptree Auction and served as a panelist for "Dreamwidth Power Tips".
I led a Python packaging/distribution sprint at PyCon North America 2018 in Cleveland, Ohio, USA.
Panel, "Social Media in Theory and Praxis: What is at Stake Now?" at the City University of New York (CUNY) Graduate Center, in New York, NY, on Wednesday, April 18, 2018. Description:

Use of digital platforms and tools like Facebook, Twitter, YouTube, Instagram, and Google has altered cultural production, political processes, economic activity, and individual habits. This event is a presentation and panel discussion on several pressing issues in social media and digital literacy featuring five invited scholars, organized and moderated by The Graduate Center Program Social Media Fellows. The speakers bring expertise in a range of timely topics including: grassroots use of the Internet, feminism, free and open source project development, labor, appropriation, peer production, virtuality, networked cameras, and big cultural data analysis.

"Code Review, Forwards and Back", with Jason Owen, at PyGotham 2017, October 6, 2017, in New York City (video on YouTube, video on PyVideo).
I served as the Tiptree Award charity auction's auctioneer at WisCon, May 27, 2017, Madison, Wisconsin, USA.
I led a session at WONTFIX Cabal (Maintainerati) unconference for open source maintainers on February 15, 2017, in San Francisco, California, USA.
I was invited to offer ten minutes of testimony (and then answer legislators' questions) at the New York State Assembly's public hearing on government oversight of forensic science laboratories on February 8th in NYC (PDF with more info, hearing calendar webpage). This was a hearing held jointly by the Assembly Standing Committees on Codes, on Judiciary, and on Oversight, Analysis and Investigation. I spoke on the importance of auditability and transparency in software used in devices the government uses in laboratories and field tests, and open source as an approach to improve these. And I testified to the efficiency, cost savings, security, and quality gains available by using open source software and by reusing and sharing open source software with other state governments. PDF of my testimony as written, video, witness list, transcript.
MidAmericon II: Nine program items. August 17-21, 2016, in Kansas City, MO. Specifically:

PyCon North America 2016: "HTTP Can Do That?!" (video recording). Learn how to get more performance, testability, and flexibility out of your web apps, using features already built into HTTP. I walk you through case studies exploring good (and bad) ideas, using Python, your browser, netcat, and other common tools.
WisCon, May 27-30, 2016, in Madison, Wisconsin. Three sessions:

Panelist on "The Fandom Awakens" (on Star Wars)
Comedy auctioneer for the charity auction benefiting the James Tiptree, Jr. Literary Award (more)
Panelist on "SIX SEASON SERIES BASED ON THE THREE-PART TRILOGY BASED ON THE SINGLE BOOK OF THE NOT ANOTHER F*CKING RACE PANEL" (comedy game show focusing on people of color)

OSCON 2016: "Inessential Weirdnesses in Open Source" (written version). Free and open source contributors and leaders who are already comfortable with our norms and jargon learn how to see their own phrasings and tools as outsiders do, including barriers that often slow down new users and contributors, and to make more hospitable experiences during their outreach efforts.
LibrePlanet 2016: "Inessential Weirdnesses in Free Software" (written remarks, video). Also: lightning talk "What is maintainership? Or, approaches to filling management skill gaps in free software" (written version).
Great Wide Open 2016: "Hidden Features in HTTP". Wednesday, March 16, 2016, in Atlanta, Georgia (slides).
FOSDEM 2016: "Comparing Codes of Conduct to Copyleft Licenses" (written version, video [83 megabytes, downloadable or streamable as "comparing-codes-of-conduct-to-copyleft-licenses.mp4"])
Open Source Bridge 2015: "HTTP Can Do That?" (slides, video)
Open Source Bridge 2014: "A Few Python Tips" (solo; materials, video) and "The Outreach Program for Women: what works & what's next" (with Liz Henry; slides, video)
Wiki Conference USA 2014: Ada Initiative Ally Skills Workshop (as part of unconference)
Foolscap 2014: "Powerpoint Karaoke" and "You, Yes You, Can Do Standup Comedy"
Wikimania 2013: "Transparency and collaboration in Wikimedia engineering (2013)" (video)
Open Source Bridge 2013: "Just Don't Lick the Cookie: an open discussion about organizational dysfunction" (with Kellie Brownell; video) and "Diversity in open source: What's changed in 2012 and 2013" (panelist; video)
Open Tech NYC 2013: "Sumana Harihareswara introduces you to your Open Tech neighbors" (notes, video)
Wikimedia tech talk, 2012: demonstration of how to fix a bug, including investigation, git commit, getting it reviewed and merged, and closing the Bugzilla ticket
Wikimania 2012: "Transparency and collaboration in Wikimedia engineering (2012)" (with others) and "What Does THAT mean? Engineering Jargon And Procedures Explained" (solo)
Open Source Bridge 2012: "Outreach Events: My Triumphs, My Mistakes" (with Asheesh Laroia; notes)
Wikimania 2011: "How to get what you want from MediaWiki developers" (video, notes)
Open Source Bridge 2011: "Learn Tech Management In 45 Minutes" and "What's New in MediaWiki 1.17 & How You Can Help"
Open Source Bridge 2010: "The Second Step: HOWTO encourage open source work at for-profits"
various Foo Camp and WisCon panels and sessions 2009-2015, e.g., "Models We Use to Understand the World", "Facebook and Its Discontents", "Must Pleasures Be Guilty?", "SF/F and Higher Ed", "Lighthearted Shorthand Sans Fail", and "How Should Magazines and Anthologies Review Submissions?"
Interviews
Mozilla Open Source Support program 2020: a 2min14sec video interview on PyPI, MOSS, and how we used the MOSS money to drive PyPI forward
The Rabbit Hole podcast 2019: interview on open source sustainability, maintainership, sensationalism among bards who sang the Odyssey, how PyPI is like Wikipedia, and what we think is paranoid, and a second interview discussing PyCon and The Art of Python, my past talks and plays, "Halt & Catch Fire", what conferences are for, and the feeling of giving a bad talk
The Recompiler podcast 2016: Interview with Sumana Harihareswara
OSCON 2016: Interview with Sumana Harihareswara
Open Paren 2015: "Sumana Harihareswara" (video)
Passionate Voices 2015: "Sumana Harihareswara" (video)
The Media Show 2015: "How does Wikipedia create content?" (video)
Smart Planet 2013: "Opening up the open source community"
inSCIght (The Scientific Computing Podcast) 2012: "Ladies Who Learn And Code"
Open Source Bridge 2012: "Sumana Harihareswara talks about the open source structure of Wikimedia and Wikipedia" (video)
OSCON 2011: interviewed on "the role of leaders within free software and free culture communities...the work of the [Wikimedia F]oundation, the relationship between developers and content providers, and a number of other topics." Video: Part 1, Part 2
Stumptown Syndicate 2011: interview at Open Source Bridge (video)
Bitch Radio 2011: "Women in Open Source"
Hour of the Wolf April 2010: interview about "Thoughtcrime Experiments", with Leonard Richardson
Like Minded Studio 2009: "Sumana Harihareswara"
Stand-up comedy
2020: GUADEC. Stand-up comedy (20 minutes) as part of the virtual conference's social events. Video forthcoming.
2016: Worldcon (MidAmericon II): "Comedy Tonight!" (About 30 minutes of stand-up comedy during a three-person showcase)
2014: Subdrift NYC
2011: a half-hour standup comedy act, performed at various New York and DC locations, Community Leadership Summit, Open Source Bridge, and the Google Summer of Code Mentor Summit (video)
2003: Bear In Mind (transcript)
Back to homepage